Write a Children's Book Course Part 2
Price: NZ$ 1095 / £ 565 / R 6995
Write a Children's Book Course Part 2
Get the skills, expert guidance and support you need to complete your children's book.​
Fast-track your progress by studying with a successful author of over 60 children's books
This follow-on course from Writing Books for Children Part 1 will provide the tools and support you need to complete your chapter book for 8- to 12-year-olds.
On this course, you will receive the necessary guidance to complete, edit and polish your children's book. You will also receive insider information on how to get published in this challenging market. 
Furthermore, with the help of an award-winning writer as your tutor, you will finish your manuscript of up to 20,000 words.
The primary aim of this course is to complete your manuscript through handing in text instalments. You and your tutor will come up with a submission plan for these instalments for the duration of the course. 
Each submission you make will be critiqued and, once the manuscript is complete, you will receive a final critique of the whole story.
The Write a Children's Book Course Gives You...
Complete your manuscript with ease
All the tools to edit, polish and finish your children's book
Over three modules, complete a manuscript of 10,000 to 20,000 words. You will also put together a book synopsis and book proposal ready for the publisher's desk.
In this course, you will learn how to:
build on your creative writing skills developed in Writing Books for Children Part 1
edit and polish your manuscript
write an effective cover letter and story synopsis
get published in a competitive market
You'll get line-by-line feedback and mentoring from Helen Brain, which will bring about noticeable improvements to your writing.
As Helen explains:
'I've made every possible mistake in my writing career, most of them multiple times. I've discovered that it's better to think through a plot thoroughly before you start writing and that having a detailed plan to follow will help you get to the end without running out of steam. 
I've learnt tricks for overcoming writer's block and for pushing my ideas further, even if – especially if –  it means leaving my comfort zone. Mostly, I've discovered that being kind to myself helps my creativity. 
In this course I will teach you what I wish I'd learnt when I first started writing. And I'll stand by you and support you as you plot out and write your book for children.'
'Helen gave me wings to fly. Having her as my tutor was a blessing. She did a great job teaching me what I needed to know in order to write a children's book. I travelled a long, incredible journey under her guidance.'
Theresa Becht, Write a Children's Book Course Part 2
Start your course at any time – applications open all year round.
Other currencies will be converted at time of invoice
The assignments vary in length.
These modules include around 50 pages of course notes.
Work at your own pace – up to a maximum of six months.
Working with an individual tutor means you can start the course at any time.
Students must be graduates of the Write a Children's Book Course Part 1. Computer skills, e-mail and Internet access required.
No previous tertiary qualification required.
Our Graduate Students'
Successes
We are proud of our graduates who have achieved success. Here are a few among dozens of our creative writing success stories.
Martin Steyn
Martin Steyn completed the Write a Novel Course. He had his first novel, 'Donkerspoor' ('Dark Traces'), published by Lapa in 2014. The book was an instant success and bestseller, and had to be re-printed. His second book, 'Skuldig' ('Guilty'), received even greater acclaim. Since then, he has written two more novels.
Gareth Ward
Gareth Ward's novel that he worked on during the course went on to win multiple awards. 'The Traitor and the Thief', a rip-roaring young adult steampunk adventure, won the 2016 Storylines Tessa Duder Award, the 2018 Sir Julius Vogel Award for Best Youth Novel, a 2018 Storylines Notable Book Award, and was a finalist in two categories at The New Zealand Book Awards for Children and Young Adults. Gareth has this to say about studying with The Writers College: 'Hand on heart, there is no way I would have been published without Alex's guidance.'
Trish Nicholson
Trish Nicholson, a former Short Story Course graduate, keeps notching up successes on the writing front. Trish won first prize in the Flash500 competition, with four stories shortlisted during that year. She won first prize in the 'shorter story' at the Winchester Writers' Conference in the UK, as well as runner-up in the 'short story' category. Two of her stories were commended in the South Island Writers' Association competition. A finalist in both the H.E. Bates Short Story Competition and the Neil Gunn Writing Competition, Trish is one of our most successful creative writing graduates yet.
Suzanne Maine
Suzanne Main completed the Basics of Creative Writing Course. Her children's novel, 'How I Alienated my Grandma', won the 2014 Storylines Tom Fitzgibbon Award.
Andy Evans
Andy Evans completed the Basics of Creative Writing Course and the Literary Short and Flash Fiction Course. He had his first short story, 'The Wooden Hills', published in 'Takahē' magazine. He placed third in the NZ Writers College Short Story Competition with his story 'Gravity'.
Taemumu Richardson
Taemumu Richardson was shortlisted in the Writers' Forum Short Story Competition. This is a big achievement as this competition draws a huge number of entries globally. She was also shortlisted for the Flash500 flash fiction competition, longlisted in the NZ Writers College Short Story Competition and received an honourable mention in the L. Ron Hubbard Writers of the Future contest. Tae had a story published in the literary magazine 'Takahē'.
Megan Frith
Megan Frith completed our Short Story Course and our Novel Writing Course. Her short story 'Scars' came first in the 2014 Page & Blackmore Short Story Competition. She went on to place third in the 2015 Page & Blackmore Short Story Competition for her short story titled 'Till Death'. Recently, two of her stories were published in 'Horizons 2', an anthology compiled by the Top of the South branch of the NZ Society of Authors.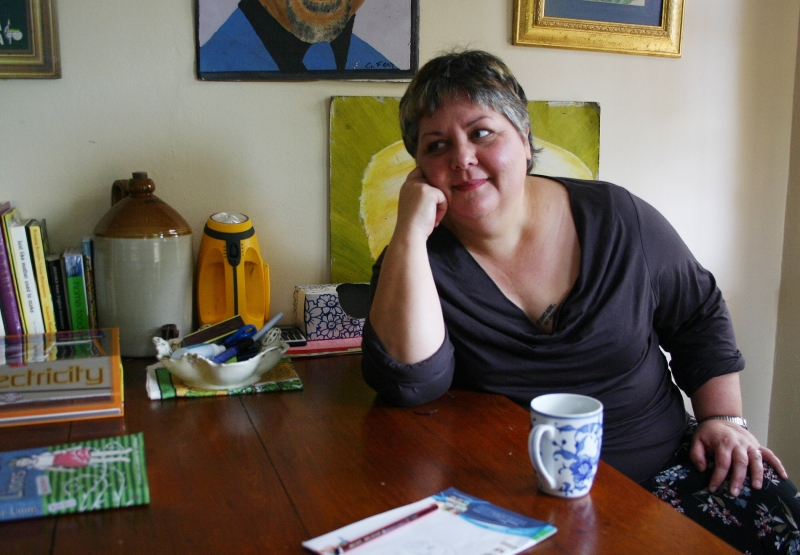 I've been writing for 25 years, and teaching creative writing for 11. I've seen over a thousand students graduate from my courses, and have an exceptionally high completion rate.
I'm very interested in the craft of writing and believe that this is something that can be learned and practised so that the story that appears on the page correlates more closely with the story in your head.    
I love teaching one-on-one, and supporting my students as they stretch themselves creatively and technically.
Achievements:
Over 60 books published for children, young adults, 1997 – 2019
Here be Lions, a memoir, published 2006
Fiery Spiral trilogy acquired by US publisher Catalyst Press 2018
Ibby South Africa Honours list multiple years
ATKV Award for her teen novel Tamara
Three of her books have been selected for the SACBF (South African Children's Book Forum) Honours List
Using the 'Most Important Test' and Editing
Looking at editing techniques
How to edit your own work
Common errors
Tightening the text
Polishing beginnings and endings
Text instalments
Submitting to a Publisher
Finding the right publisher for your story
Choosing a title
How to write a cover letter and a synopsis of your story
Text instalments
The Writing Life and Writing Trends
e-books, e-book publishers and self-publishing
The importance of starting a blog
The lifestyle of the working writer
Opportunities and challenges in the world of writing
Text instalments
Michelle Beater
Write a Children's Book Course

I found the course informative and challenging. I enjoyed writing, but I went through a moment of feeling uncertain as to how to continue. I told my tutor Helen, and she gave me good advice. I could then enjoy my writing again and creativity flowed easily. I might go over my course material again and see what other stories come to me now. Helen was very prompt and helpful. I felt at ease discussing topics with her. She has a wealth of knowledge I'm sure I have barely tapped into. Overall, I would describe the course as being very tough, but rewarding.
Jody Ellis
Write a Children's Book Course

I found this course very beneficial. It had a good progression from Part 1, where I was expected to work more independently, which was excellent. Working with my tutor … was great. Her feedback was always helpful and I learnt a lot from every email contact I had with her. She was very thorough in her marking and feedback and her wealth of knowledge was invaluable. I felt she understood what I was trying to achieve with my story and I am very grateful for all her help along the way. I now have a very good idea of what it takes to write a book and I have grown my writing skills more than I expected. I found the online course to be a highly effective way of learning the skills I needed. All aspects of my dealings with The Writers College were professional and positive. Many thanks.
Lyn McNamee
Write a Children's Book Course

Overall, I would describe the course as fantastic. The most useful part was the feedback I received from Helen. I knew most of the content but the application of it to my own children's book was what I needed help with. Helen was so helpful; I feel like she became a friend and mentor on the journey.
Jessica Harvey
Write a Children's Book Course

The course was wonderful. I learnt so much, and I'm sure I can put all these new-found skills to great use. Many of the skills I developed can be applied to writing, not just for children but for teenagers or adults too, and therefore are a very valuable asset to have! It was hard work at times, but definitely worth the effort. My tutor was fantastic. She really pushed me to be better, and I appreciated that she was honest about what needed changing, but supportive enough that I wasn't crushed by criticism. She was directive and helpful, but always made sure that I was the one putting in the effort, so that I could develop better writing skills under my own steam. With her help I feel like I have developed, bigger "writing muscles" and more confidence. Thanks Helen! I now have a finished manuscript that I'm very happy with. It was a fantastic experience, I recommend it to anyone who is even considering it – worth every penny!
Lauri Thorburn
Write a Children's Book Course

My experience with the course was invaluable. I learnt so much. The course content and assignments have made me a much stronger writer. My tutor Helen was amazing, incredibly inspiring and insightful. She gave me a different perspective on writing and my final manuscript wouldn't have been half as strong if it wasn't for her; I owe her a lot. The Writers' College is professional, credible and well worthwhile. The course absolutely met all of my objectives and more! It has made me a much more critical, thorough and refined writer and it has motivated me to reach my writing goals.
Michelle Randall
Write a Children's Book Course

When I started the course, my goal was to begin a book and see it through to the end. My vague knowledge of how to do this was clarified by the course notes, but it was the step-by-step process of actually writing a book, and the feedback from my tutor, that I found most valuable. I would never have completed my book without Helen's guidance. She was forthright and challenging; her input insightful. Whenever I felt that my story wasn't good enough – or that I wasn't a good enough writer, she was there to pound me back into shape. Essentially, Helen provided me with the self-confidence to see a story through to its end… and more importantly, the courage to start the next one. I am halfway through my new book and I have Helen to thank for it. Overall, I would describe my experience with the College as absolutely brilliant. I loved the back-and-forth process of feedback and rewriting. I am a MUCH better writer for it. I would do it again in a heartbeat. Thanks!
Get These Additional Benefits
Risk-Free 100% Money-Back Guarantee
We are so confident that you will love your course that if you're not 100% satisfied with the quality of our training, simply ask for a refund within 30 days.
Complete the Application Form to Enrol on the Write a Children's Book Course Part 2
You will receive an approval email and invoice within one working day.
Questions? We've Got Answers
'The course has given me more confidence in my writing and in my ability to understand children's literature in depth. The Writers' College has allowed me to see the potential I have in writing. I have gained so much insight. I am now determined to complete my manuscript.'
Surani Ramachandra, Write a Children's Book Course
We would love to help you choose the best course for you. Tell us what style of writing you want to develop and we'll give you some options.