Writing for Video Games Course
Price: NZ$ 1295 / £ 695 / R 9495
Writing for Video Games Course
Harness your passion for gaming and storytelling
Learn how to build immersive and interactive gaming worlds
The Writing for Video Games Course will equip you with all the tools you need to produce a professional script pitch. If you're passionate about gaming and have your own immersive stories to tell –  this is the course for you!
Explore short-form and small screen storytelling with industry expert Paul Dunn. With his personalised feedback, you can transform your big idea into a marketable, ready-to-pitch digital media offering. 
Become a fiction engineer on our Writing for Video Games Course
Master game mechanics and create narrative assets
The gaming and interactive media industries generate more than $15 billion annually in the US alone. 
Quality storytelling is key to the industry's success. The Writing for Video Games Course will turn you into a fiction engineer who can build a compelling story step by step, create believable video game characters, introduce and maintain tension, and develop an immersive gaming world that keeps players hooked.
Find out how to use game mechanics as the backbone of your story. Create clear turning points, transform exposition into ammunition, build in hooks, cliffhangers and emotional roller coasters.
This ten-module course teaches you how to write dialogue, concept documents, in-game text and the host of other narrative assets you'll find in video games.
Working at your own pace, you'll complete and polish one project brief in six to 12 months, ready to pitch to a producer of your choice.
'Great experience! Great pacing, clear instructions, fantastic feedback. Definitely recommended. '
Roxane Dalinger, Writing for Video Games Course
Start your course at any time – applications open all year round.
Other currencies will be converted at time of invoice
The assignments vary in length.
These modules include around 200 pages of course notes.
Work at your own pace – up to a maximum of twelve months.
Working with an individual tutor means you can start the course at any time.
Basic writing skills are essential. Computer skills, e-mail and Internet access required. No previous tertiary qualification required.
Our Graduate Students'
Successes
We are proud of our graduates who have achieved success. Here are a few among dozens of our creative writing success stories.
Martin Steyn
Martin Steyn completed the Write a Novel Course. He had his first novel, 'Donkerspoor' ('Dark Traces'), published by Lapa in 2014. The book was an instant success and bestseller, and had to be re-printed. His second book, 'Skuldig' ('Guilty'), received even greater acclaim. Since then, he has written two more novels.
Gareth Ward
Gareth Ward's novel that he worked on during the course went on to win multiple awards. 'The Traitor and the Thief', a rip-roaring young adult steampunk adventure, won the 2016 Storylines Tessa Duder Award, the 2018 Sir Julius Vogel Award for Best Youth Novel, a 2018 Storylines Notable Book Award, and was a finalist in two categories at The New Zealand Book Awards for Children and Young Adults. Gareth has this to say about studying with The Writers College: 'Hand on heart, there is no way I would have been published without Alex's guidance.'
Trish Nicholson
Trish Nicholson, a former Short Story Course graduate, keeps notching up successes on the writing front. Trish won first prize in the Flash500 competition, with four stories shortlisted during that year. She won first prize in the 'shorter story' at the Winchester Writers' Conference in the UK, as well as runner-up in the 'short story' category. Two of her stories were commended in the South Island Writers' Association competition. A finalist in both the H.E. Bates Short Story Competition and the Neil Gunn Writing Competition, Trish is one of our most successful creative writing graduates yet.
Suzanne Maine
Suzanne Main completed the Basics of Creative Writing Course. Her children's novel, 'How I Alienated my Grandma', won the 2014 Storylines Tom Fitzgibbon Award.
Andy Evans
Andy Evans completed the Basics of Creative Writing Course and the Literary Short and Flash Fiction Course. He had his first short story, 'The Wooden Hills', published in 'Takahē' magazine. He placed third in the NZ Writers College Short Story Competition with his story 'Gravity'.
Taemumu Richardson
Taemumu Richardson was shortlisted in the Writers' Forum Short Story Competition. This is a big achievement as this competition draws a huge number of entries globally. She was also shortlisted for the Flash500 flash fiction competition, longlisted in the NZ Writers College Short Story Competition and received an honourable mention in the L. Ron Hubbard Writers of the Future contest. Tae had a story published in the literary magazine 'Takahē'.
Megan Frith
Megan Frith completed our Short Story Course and our Novel Writing Course. Her short story 'Scars' came first in the 2014 Page & Blackmore Short Story Competition. She went on to place third in the 2015 Page & Blackmore Short Story Competition for her short story titled 'Till Death'. Recently, two of her stories were published in 'Horizons 2', an anthology compiled by the Top of the South branch of the NZ Society of Authors.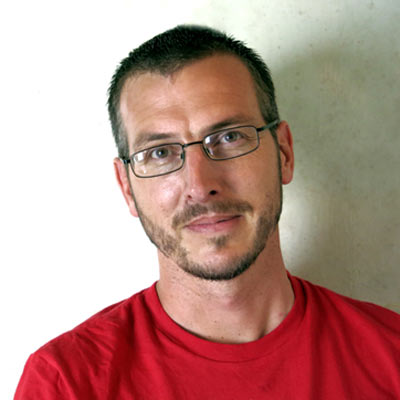 Paul Dunn has a BA in Media Studies from Massey University and is a freelance narrative designer in Auckland, New Zealand. He tutors the Writing for Video Games Course.
Paul is passionate about video games and their narrative potential. He's been hooked on exploring vast, fantastic gaming worlds since the very first time he watched his Commodore 64 load Elite from a cassette tape. While the hardware has changed, his love of these immersive and interactive stories hasn't waned.
Paul's writing background is both diverse and extensive. He has over a decade of experience working in the communications industry. At one point or another, he has had a hand in creating dynamic video and digital media for non-profits, crafting online articles and blogs, copy-editing novels, and producing captivating marketing content for software companies. 
He maintains a deep appreciation for how our digital culture creates and shapes narratives, and sees the interactive nature of games as an exciting evolution in storytelling.
Defining 'Jigsaw Storytelling'
A brief overview of tools gamers use to tell their stories
What makes video game narration unique from other media?
Consider the nature and limitations of short-form and small screen storytelling 
How big ideas can be tailored into effective and doable digital media stories
You've got the attention of your audience for one minute. How do you make those 60 seconds count?
Clear turning points
Transform exposition into ammunition
Hooks and cliffhangers
Emotional roller coasters
NPCs Are Real People Too!
Learn how to develop effective video game characters
Characterisation
Dialogue
Information delivery
Create narrative assets within your game world that can be used to inform and instruct your player 
Learn to build your story piece by piece
Tomes
Flavour text
Visual features
Build worlds in which players can explore and lose themselves
Create worlds rich in context, logic, meaning, history and wonder
Place names
Meanings
Greater contexts
Chronologies
Contemporary situations
Learn the four key steps to create MOBs (Monsters or Beasts)
Populate your world with MOBs to act as antagonists to your protagonist
Learn how to design dilemmas that give your players something to think about.
Storytelling Through Game Mechanics
Learn how game mechanics can be tailored to provide the narrative backbone of your video game.
Take all the knowledge you've gained so far and compile a project brief that will impress game producers.
Stephanie Toerien
Writing For Video Games Course

I was very fortunate and happy to be able to complete this course. I've learnt so much about the industry and, most of all, I've learnt how to improve my future writing projects. Paul Dunn was an excellent tutor and a great help for all the questions I had regarding the course content, no matter how simple and irrelevant I deemed my questions to be. He always promptly responded to my questions and gave me advice and pointers on how to improve my future work. A wonderful college to improve and shape your writing skills.
Ashley Susan Nicole Fairfoot
Writing For Video Games Course

The course was very informative – fascinating even – and I felt as though a lot of uncertainties in my writing finally made sense. My appreciation for games and even other mediums of storytelling has increased as well, making them far more enjoyable. I can, with confidence, say that this course was excellent and I recommend it to anyone interested in the industry! Paul was superb throughout! His feedback and guidance on the assignments and the various game elements and narratives was incredibly helpful. In fact, while the materials on the course were great, I can honestly say that thanks to Paul I came away with so much more. It wouldn't be a stretch to say that he is one of the best tutors I've had! I'm truly grateful to have had his guidance on this course and if we ever end up on the same writing team for a game someday I'd be overjoyed! A fantastic and informative experience! I learnt so much and enjoyed every bit of it so much so that I was sad when my course came to an end. It was the kind of experience I'd be happy to reload and relive!
Rachel Colligan
Writing For Video Games Course

The Writers College was exactly what I'd been looking for. It has helped better my understanding of the genre of writing I had an interest in and has helped solidify my thoughts on working towards a career in creative writing. Paul has been an excellent tutor during the course and has been both punctual in his replies and helpful with his advice. He was also a great help in suggesting how to branch into the gaming community after the course was completed.
Rosemary Lokhorst
Writing for Video Games Course

Great course for people who want to get into the field, or those who already are but could use a little structure. Paul was excellent: patient in answering questions, great at explaining things and very responsive.
Cody Readinger
Writing for Video Games Course

This course was definitely worth the time; it showed me the big picture of becoming a story writer. Edwin was very professional tutor and pushed me to try my best. I'm really glad I decided to choose The Writers College to enrich my inner creativity. My overall experience was remarkable and gratifying.
Mathew Anderson
Writing for Video Games Course

I received thorough and practical experience for writing for Video Games. My tutor was very positive and always happy to help; the feedback and critique was really useful. Enjoyable, guided creativity with subject experts rarely found in NZ available for meaningful instruction.
Get These Additional Benefits
Risk-Free 100% Money-Back Guarantee
We are so confident that you will love your course that if you're not 100% satisfied with the quality of our training, simply ask for a refund within 30 days.
Complete the Application Form to Enrol on the Writing for Video Games Course
You will receive an approval email and invoice within one working day.
Questions? We've Got Answers
We would love to help you choose the best course for you. Tell us what style of writing you want to develop and we'll give you some options.