Writer JUNE RICHARDSON shares the secrets to successful travel writing from the backseat of her motorhome.
What can be a better life for a travel writer than sightseeing in a motorhome? Every day offers potential new adventures – and article angles! Here's how to make the most of your travel writing while on the road. 
Travel writers do best in the passenger seat.
Try to be the passenger. This gives time for observations while recording them on the move.    
Mobile photography for travel articles
Remember to have a camera in the front of the motorhome when travelling. You can't predict when you'll spot nesting storks in the most unusual places or the craziest, one-of-a-kind vehicle passes by, or an unexpected cloud formation suddenly appears on the horizon while moving along the empty and apocalyptic-like roads of COVID-19.     
Collecting travel facts in record time
There are the motorhomers who stay in one place for days and then there are those who like to keep moving; the latter type should be prepared before a visit. To write effectively about a place, research where the key sites are beforehand, e.g. the tourist information, museums, galleries, cathedrals etc.
Make notes when looking around and take lots of photographs; these short reminders always spark other details when writing about the day's discoveries.  
Wakefulness is a bonus
Try and remain awake while travelling so that you won't miss the exciting parts. A nap during a road journey can mean missing a spectacular electrical storm over the Central Massif or a couple of hares bounding across a Scottish field or a vulture landing on the bonnet of the van (I think the final one was a wind-up by my husband after a particularly lengthy snooze.) 
Want to Turbo-charge Your Writing and Produce Articles Faster and More Effectively?
Study journalism with one-to-one tutoring by an award-winning journalist.
Online connectivity is a must
You know that sinking feeling when your phone displays, 'You have 21 days left and 3GB of data'?  Eeeek!  
A roll-over data package is a necessity to ensure data capacity for research, writing and publishing blogs. Out and about there is the added benefit of gathering information, especially when having to translate from another language, and the sat nav for those with an abysmal sense of direction or map-reading skills.  
Take away the needless worrying with travel apps
On the road with a kitchen, bathroom and bedroom does require parking places that are appropriate and secure. A site such as 'park4night' takes away all the stresses of finding that perfect stopover.  
The boring bits of travel writing
Ignore them! Only joking. Keep records of:
how many km travelled between places A and B
direction travelled
Facts re: places of interest e.g. addresses and prices
where to eat or take a break
provision stores
motorhome facilities in the area
A writer is a writer
It is tempting after the bike rides, walks, museum visits and cafe breaks, to sit and relax in the sunshine. Here's the thing – to be a travel writer, a daily commitment to writing is beneficial; this provides time to consider and revise previous pieces and to begin to record the latest explorations.
The best part of being a travel writer
When a considered piece is published and read by others.
About the author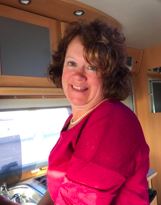 June Richardson took early retirement in 2017 from a career in education. She loves spending time with her family, and enjoys reading, gardening and being creative. June and her husband Ian are renovating a property in between following their dream of travelling around the UK and Europe in their motorhome.